So finally I can share with you some features of ISA 2006 SP1.
One of the great new features we will see is Change Tracking.
I have sent the product team my love for introducing this, this feature alone will make everyone hurry to get ISA2006 SP1. I also think that this will make selling ISA as a "serious" Firewall will be much easier.
In Enterprise Edition this feature is enabled on the Enterprise level.
You also have the option to require a description for all changes made.
I would suggest that you enable this as soon as the basic configuration of ISA is done and we are moving into production.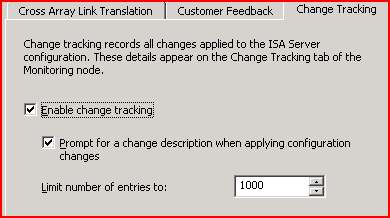 Even though you might feel tempted to raise the number of entries to a huge number, be aware that this might cause the Change Tracking, search and filtering function to be real slow.
With Change Tracking you will be able to track every change made to ISA configuration.



I will just LOVE this feature, it will make my life working with ISA so much easier. Imagine having solid proof when the customer complains that ISA "just stopped working" and they "haven't done anything".
If you drill down into the change you want to check out you will then see a very detailed view on what was changed.


One of the things this feature will make me stress to my customers is to use individual accounts when working with ISA, in this way we will always know "who" made this change. If we all use the administrator account, that part will be lost.
This is the first in the series of blogs I plan on SP1 features, stay in touch for more.