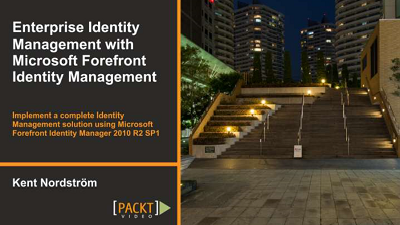 NOTE! The video course has been removed from the Pack site and due to copyright, I'm not allowed to share it. Please contact Packt if you're interested in getting it.
My FIM 2010 R2 video course, "Enterprise Identity Management with Microsoft Forefront Identity Management", was published in july 2014! This page and the section pages below will be used to collect feedback and answer any questions you as a reader might have.
The video course has 8 sections as descibed below. Each section is divided in 4-5 videos, making a total of 36 videos.
If you would like to make general comments please comment on this page. Otherwise use the pages for each section if you have questions about the content in the videos.
The video can be ordered from Packt Publishing
In the video i use some fictive HR data. Here you can download the SampleSQLData script required to generate the SQL database.
In the video you see me use some scripts and code. These and also instructions on how to configure the environment can be found in my post on FIM 2010 R2 Pre-Requisites.
FIM 2010 R2 is supported to run on Windows Server 2012. Before installing FIM 2010 R2 we need to get some pre-requisites in place. We start by installing SharePoint Foundation 2013, used by the FIM Portal, and then install all the basic components of FIM 2010 R2.
There are many typical configurations made in almost every FIM implementation. We configure the basic management agents we need to connect to the FIM Service and the Active Directory. We take a quick look at schema management before we import users already present in AD into our FIM environment.
A typical flow is to have the HR system as master for typical users. We configure FIM to import users from HR and export the information to AD. We also look at some basic Exchange management of users.
Groups are usually managed very differently depending on what kind of group you talk about. You have organizational groups controlled using information in HR, but you also have groups manually created for different purposes. Delegating the ability to manage groups to end-users is a key feature in FIM.
Self-service is a very useful concept to make identity management effective. By allowing end-users and/or managers to administer some aspects of the process is very useful. Self-Service Password Reset is one example we look at to show how self-service can really make an impact in a modern company.
When we start to use self-service the FIM Portal typically needs to be customized to meet the needs of the organization. This is not just the look and feel. It is also the functionality of the FIM by adding workflows and other custom activities in FIM.
Traceability is often important when it comes to identity management. Getting FIM Reporting up and running is the way in FIM to get easy access to long term historical data about identities managed by FIM.
Smartcards is one of the best and cheapest ways of getting stronger authentication. Managing the lifecycle of the Smartcard is made possible through FIM CM. We install FIM CM and make the basic configuration required for self-service. We then configure the policy to allow a manager to issue Smartcards to consultants without any involvement of IT.