Every now and then a FIM administrator runs into having to do some cleanup in the MetaVerse in FIM. It could be things like deleting objects or "nulling" attributes.
In this post I will show you how you can use a CleanUp MA to assist you in this task. The example I use is to delete all group objects that are missing the accountName attribute.
There are several ways of creating the CleanUp MA. My approach is to use a SQL MA that uses a SQL view of the MetaVerse to filter the objects you would like to "Clean Up".
WARNING! Before you continue make sure all schedules are turned off and that you make a new backup of the FIMSynchronizationService database.
First let's create the SQL view. The table you use in the view is the mms_metaverse and the "required" attributes you should use is the object_id and object_type. Object_id is the one you use to join and object_type is for defining the object_type column in the SQL MA. You then add columns and filters as needed to define the objects in the MV that you need to work with. In this example I take group objects where accountName is missing.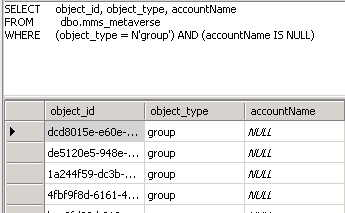 Then create a simple SQL MA using the view and create a join rule using the object_id attribute.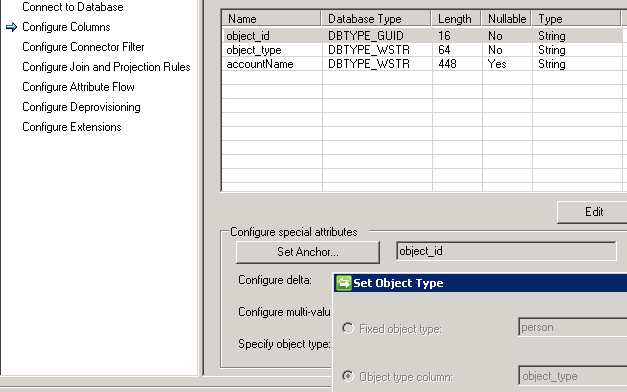 Configure run profiles for Full Import and Full Synchronization



Run Full Import and Full Sync to join the objects in the CleanUp MA to the objects in the MV.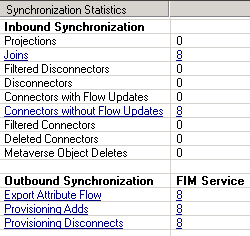 In Metaverse Designer configure a new object deletion setting to delete group objects if they are disconnected from the CleanUp MA.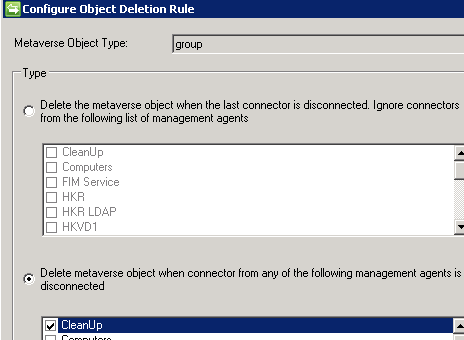 If you would like to propagate the deletion to another MA (or MA's) you can temporary define the deprovisioning setting on that MA to delete objects when disconnected. In my example these groups has an error in the FIM Service MA since they lack the required accountName. These pending provisions will be deleted once the MV object is deleted.


To fire off the deletion just delete the connector space of the CleanUp MA. This will now disconnect and delete the MV object and, in my case, the pending errors in the FIM Service MA.
When done, remember to reset the object deletion rule and deprovisioning settings you changed to its prior setting.


The CleanUp MA can be kept for future needs. Just change the view as needed and do a Refresh Schema on the CleanUp MA to use it for other purposes when needed.